South Africa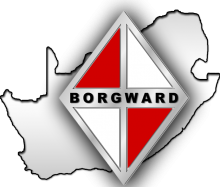 Type of vehicles

All Borgward Cars

Brands

Borgward

Founding Date

1961

Website

Facebook page

Phone

+27 (0)21 979 5963

Phone

+27 (0)83 6878486

Contact Name

louis van jaarsveld
In 1961, the year during which the manufacturing of Borgward vehicles in Bremen was discontinued, a small group of enthusiasts in Cape Town decided to form a club in order to create friendship amongst the many owners and to ensure the preservation of all Borgward, Goliath and Lioyd cars.
The inauguration meeting was held at the residence of Mr. Danie de Villiers on the 2nd of June 1961. The others were Mr. Bertie van der Sandt, Mr. Gerbeau Kotze and Mr. Jannie de Villiers. At the first Annual General Meeting, Gerbeau Kotze was elected as chairman, Danie de Villiers as secretary and Bertie van der Sandt as captain. A constitution which differs very little from the current one, was drawn up at this meeting.
Pamphlets were mainly used to recruit members and the reaction exceeded expectations.
Monthly and weekend outings were very popular and convoys of up to 30 cars were not unusual.
Newsletters were originally written by hand and copied. The club's first typewriter was an antique Remington donated by Mr. Kosie Smit.
A Rex Rotary duplicator was bought by the club.
Rallys were organized from time to time with great success and to obtain funds, curry evenings, film shows, dances and raffles were held.
A special dance and Christmas function was arranged annually in the recreation hall of the Salesian Sport Club in Green Point which was available to the club, for many years, free of charge.
In November 1966 membership fees were increased from the original R3.00 per annum to R7.00 which included a metal car badge.
The first Concourse d'Elegance was held at Zandvlei, Muizenberg on the 19th of January 1967 and became an annual event.
Valvoline donated a trophy as well as cans of oil for prizes.
The club's membership grew gradually and in 1967/68 no less than 25 new members entered. In 1972 membership countrywide, including Namibia and Zimbabwe, rose to 70.
In April 1969, the Borgward agents, Vanroux Motors in Johannesburg was sold and all Borgward spares were taken over by Clows BMC. A decision was taken that the club should build up its own supplies of spares.
After telephonic negotiations with the new owners, a few representatives left for Johannesburg in an Isabella to finalize the transaction.
The club did not have any storage facilities and parts were kept at the secretary's home.
In September 1972 a 1958 Isabella was purchased and modified by Robert Schepel for Stock Car races which was organized by the Somerset West "racing devils". Robert was unanimously elected as driver for the club and during the first event he won first, second and third places in three races.
Articles written by the club
No stories or articles written by this club yet
Club Events
No events inserted by the club for the moment
---
Edit this club