The Isetta's characteristic ovoid shape makes it hard to mistake for any other model. This funny city car had a rather tumultuous commercial life for some years.
In the aftermath of the Second World War, Italy was bereft of money. The Allied bombing had damaged its industry and the country still had few motorised vehicles. In 1947, Piaggio launched the Vespa, the providential two-wheeler, followed by Lambretta, which directly imposed itself as the main competitor of the bee brand. For his part, the industrialist Renzo Rivolta, who had made his fortune in the refrigerator business, sought to differentiate his activities. He had the idea of creating a small, inexpensive vehicle that would offer its occupants protection against the elements. In 1950, the engineer Ermenegildo Preti designed a three-wheeled egg-shaped vehicle. Rivolta took note of his work and hired him to develop his idea but on the basis of 4 wheels, a configuration considered more stable. The machine was presented at the 1953 Turin Motor Show and was named Isetta, in homage to "Iso", the name of Rivolta's company. This motorcycle-powered cart was very simple and could accommodate two adults and a (small) child. The single door to which the steering column is attached, which can be folded away and split into two parts, gives access to a basic bench seat.
A history of licensing
Unfortunately, the Isetta was not a success, but Renzo Rivolta did not give up. In 1955, he decided to offer licences for the production of his little car to other manufacturers. Against all odds, he sold the Isetta to Velam in France and to Romi in Brazil. But the surprise came from BMW, which was also interested. It was the German manufacturer that made the Isetta a household name, producing 160,000 examples in 8 years. The Isetta was assembled in Germany, the United Kingdom, France, Brazil, Belgium and Spain!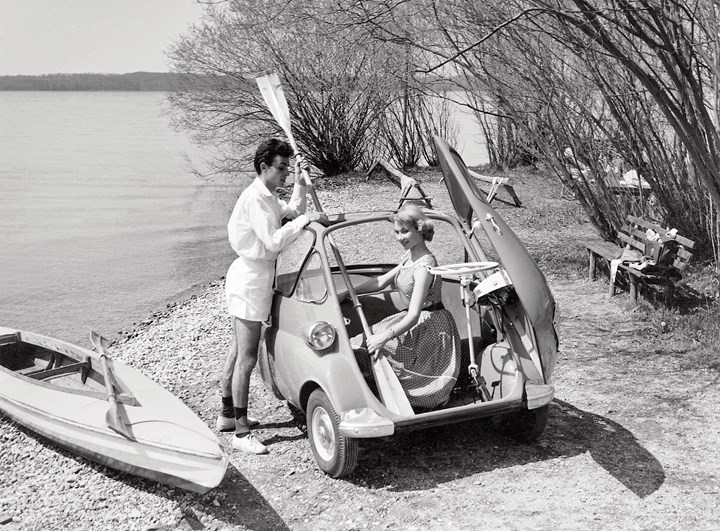 Difficult times
When BMW considered licensing the small Italian car, the firm was in a very bad financial situation, weakened by the Second World War and producing unsuitable models that sold very poorly. In a somewhat desperate attempt, the Bavarian auto manufacturer decided to enter into the (very) small car market, a segment it had no experience in. BMW added its own motorcycle-derived 245cc twin-cylinder engine, developing 12 bhp this motor allowed the Isetta to reach a top speed of 80 km/h. A slightly more powerful 300 cc block (13 bhp!) was added to the range in 1956. The car was a success, but the 1960s quickly heralded the decline of microcars due to the arrival of more comfortable, faster and well-priced regular-sized offerings. The Isetta was fun to drive but tiring on all but the shortest of drives and disappeared in 1962. Today it has become one of BMW's most iconic cars, which can happily fetch over €25,000 on the collector's market.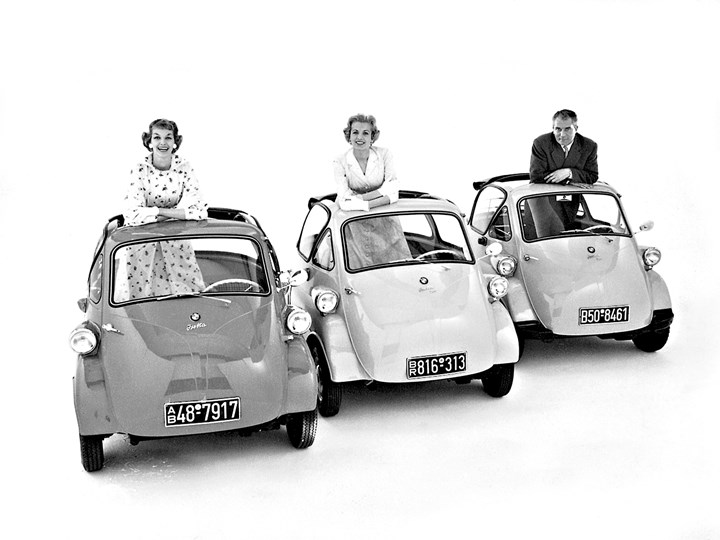 About the author: