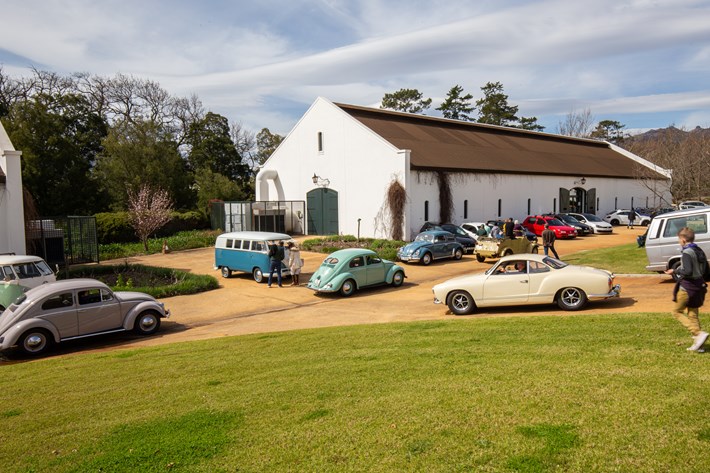 August 31 was the 70th anniversary date of the first Volkswagen Beetle being produced in South Africa. Throughout August in Hall B, FMM recognised this achievement with a display of various iconic VW models – including the museum's own 1952 Beetle – culminating in a VW-themed festival on August 28-29. "What an amazing weekend!" said FMM curator Wayne Harley afterwards. "I could never have imagined just how much support the VWSA anniversary would get when I spoke with Jason Furness of AutoTours about the idea a few months ago. Long-time museum supporters Jason and his wife Charlotte were absolute heroes, and through their connections roped in support from all over the Cape Town area. And if it wasn't for the Level 3 COVID restrictions, we could have seen three times the public attendance figures.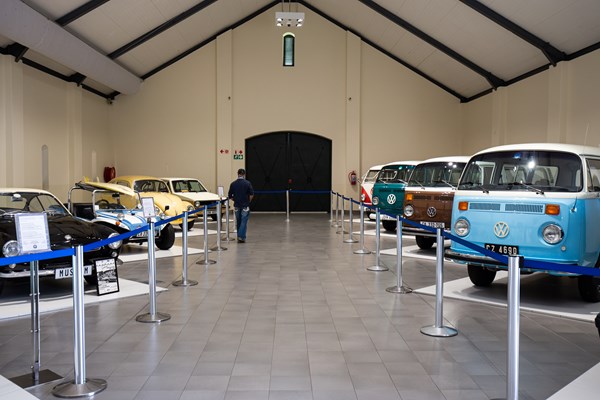 "Saturday was a little wet and cold with only a 60 per cent capacity attendance, but it was still a great day. Sunday was just super perfect, and we were totally sold out with people phoning for tickets all morning," said Wayne. "But it was the 'Volksies' that stole the show in the end, with buses, Beetles, Golfs, Jettas and even a '70s Passat. From the 'ropiest' bus to examples that I think could win a concours d'elegance, all stood and gleamed in the bright crisp sunshine as a tribute to a car brand that is truly a family favourite. There was such a festive vibe at the museum, especially after it has been quiet for so long. Thank you all who made the effort to get here, and to the museum staff that worked so hard, many doing the jobs of two or three people because of current restrictions."
Apart from FMM's 69-year-old 1131 cc 'People's Car', the August display comprised a 1957 Beetle 1200, 1958 Microbus, 1959 Karmann Ghia, 1966 Beetle 1300, 1968 Type 182, 1969 Beach Buggy, 1970 Kombi, 1975 pick-up, 1976 Beetle 1600L, 1980 Golf Mk.1 and a 2001 T3 Microbus. And as a modern example of VW's decades old history of manufacturing models with high local content, VWSA loaned  a 2021 Polo Vivo 1,4 Comfortline. In addition to the private vehicles, over the two-day festival Paarl dealer NTT VW also displayed a range of modern VWs.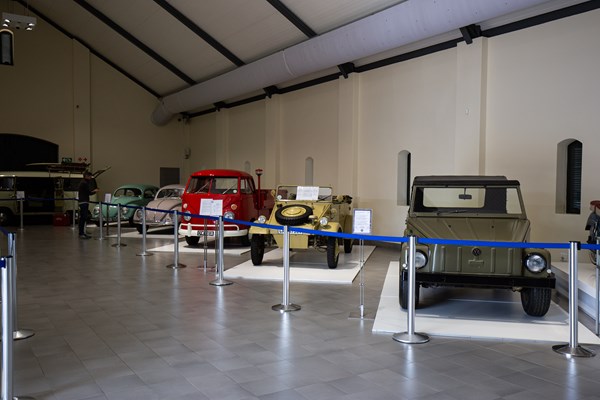 In early August, VWSA held the press launch of the Golf 7 GTi in Cape Town, and three of the company's top personnel took time out to visit the museum to see the VW display. Dr Robert Cisek (MD: Volkswagen Group South Africa), Steffen Knapp (Head: Sales & Marketing – Volkswagen Passenger Brand), Gina Handley (Manager: Product Marketing – Volkswagen Passenger Brand) together with Andile Dlamini (Head of Group Communications, VWSA), were taken on a tour of the displays by Wayne Harley and Mike Monk.
To recap, the origin of what is now VW's manufacturing plant in Uitenhage began in 1947 when South Africa Motor Assemblers and Distributors (SAMAD) began assembling Studebakers. Production of the Beetle began on 31 August 1951. Volkswagen acquired a blocking minority in SAMAD in 1956 before the facility was renamed Volkswagen of South Africa Limited at an extraordinary general meeting. And In 1974, the plant became a wholly-owned subsidiary of the Volkswagen Group.
WHERE, WHAT TIMES AND HOW MUCH ?
The Franschhoek Motor Museum is situated on the L'Ormarins Estate along the R45 in the Franschhoek Valley in the Western Cape, which is approximately a one-hour/75 km drive from central Cape Town.
The following visiting procedure applies only when nation-wide COVID-19 restrictions allow.
The museum is open Monday to Friday 10h00 to 17h00 (last admittance 16h00), Saturday and Sunday 10h00 to 16h00 (last admittance 15h00). The museum is closed on Good Friday and Christmas Day.
Prior booking is requires and tickets ordered online – logon to www.fmm.co.za. There is ample secure parking on site. Motorcycles and buses larger than 23-seaters should park at Anthonij Rupert Wyne from where visitors will be transported to and from the museum by charabanc.
The revised Deli layout offers refreshments, sandwiches and snacks on a 'Grab & Go' basis along with counters offering some new, exciting estate products for sale together with regulars such as olive oil, honey, books, caps, glasses, key rings and fridge magnets. Customers will be permitted to sit in or outside the Deli to enjoy their tea/coffee and treats. A selection of wines produced by Anthonij Rupert Wyne is also available, subject to permitted selling hours.
Entry fees: R80 adults, R60 pensioners and motor club members (with membership ID), R40 children (ages 3-12). Guided tours are available upon request at no charge.
Visitors are encouraged the pay via debit/credit card/SnapScan to avoid handling cash. 
For any further information logon to the FMM website www.fmm.co.za or phone 021 874 9000 or e-mail fmm.co.za.
written of behalf of the Franschhoek Motor Museum by Mike Monk Motor Media and photos by Jade Macdonald